Beatport has a new Erasure remix contest going on now and they're giving you an opportunity to remix the track "I Lose Myself". Contest winner get's up to $5,000 in prizes and their remix released on Mute. All the details are after the jump!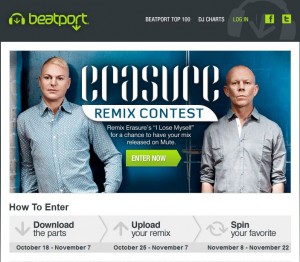 Contest Details per Beatport.com:
Ready to get lost in the music? Beatport is proud to announce Erasure's "I Lose Myself" remix contest, featuring the pumping electro-disco single from the band's new album for MUTE, "Tomorrow's World." This is your chance to collaborate with two of synth-pop's veritable icons, Andy Bell and Vince Clarke (himself a founder of Depeche Mode and Yazoo), along with the pop producer Frankmusik; and the parts to the single lend themselves to a vast array of remix possibilities, from filthy dubstep to stadium-grade electro house.

The winning remix will will rack up over $5000 in prizes. The submissions process begins on October 25th, and the window for entries closes on November 7th at 10.00PM MST. View Beatportal post for full details.