The 12″ vinyl single for Motor's "Man Made Machine" featuring Depeche Mode's Martin L. Gore on vocal duties is out now on CLR Records. The digital single was released last December, but the collectors and vinyl junkies like myself are psyched to get our hands on the actual 12″ single. Details and front & back sleeve art after the jump!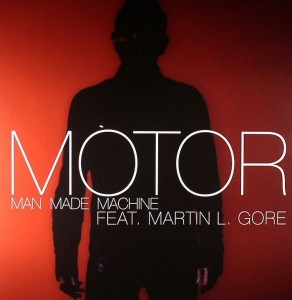 Tracklist:
A1 -"Man Made Machine" (Radio Slave remix)
A2 – "Man Made Machine" (Black Asteroid remix)
B1 – "Man Made Machine" (Chris Liebing remix)
b2 – "Man Made Machine" (extended version)
I'm sure lots of music retailers will have the single in stock, but Juno Records has it in stock now. They're one of my favorite spots to buy records, so I thought I would give them a plug. To purchase it, click here!