Have you ever been in that situation where you just wanted to check out a couple of Moogs and other music gear but people kept asking you to take a picture with them? No? Oh. Well, Martin Gore has, just a few hours ago. While attending the annual NAMM Show at the Anaheim Convention Center, many music nerd- sorry, I mean fellow music aficionados could not help but take a selfie with them and Mr. Gore and spread them across Instagram, Facebook and Twitter. One of the notable fans who spotted "our guy" was "Devotional Dave", from the Californian Depeche Mode tribute band Strangelove. As expected, he too posted a selfie on their Facebook page, along with a video of Martin hanging around the Moog booth.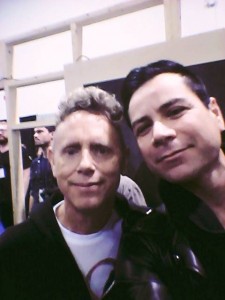 Another notable photo is one by Universal Audio, who had set up a booth that emulated United Western Studios in 1958, in which musicians could pretend that it's the 1950s all over again: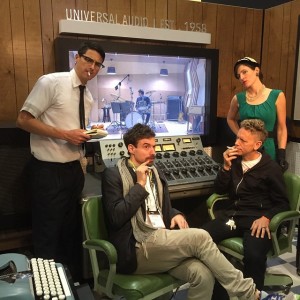 Well DM might be old but they're not that old!
Anyway, presuming that Martin has bought some new gear today, I am sure that we'll get to hear some of it being used by him somewhere in the future.