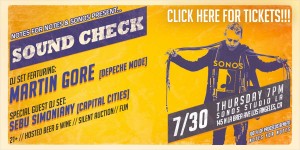 About two weeks ago, restaurant and music club SoHo in Santa Barbara announced a small event which will include a DJ set by Martin Gore, titled "SOhO's 20th Anniversary Fundraising Show Series". It does not actually say what the fundraiser is for, but it seems that the music club needs a new stage. Martin has already stood on that stage last month, when he joined his son and daughter for a short, private performance in front of his son's classmates and their parents, organised by their school.
The Meet & Greet tickets for the DJ set on June 27th were sold out after about a day, but there are still some General Admission standing tickets. Go to Soho's site for more info: https://www.ticketfly.com/purchase/event/868969
And a few hours ago, music foundation Notes For Notes announced another DJ set, as part of their annual 'Sound Check' event. Also in Santa Barbara, this event was usually held at the end of each year, but since Notes For Notes relocated to a new building, it seems that the event got postponed to July 30th this year. This will be the fourth time that Martin has DJed at this event, and it's presumably going to be a slightly bigger event than the one by SoHo.
General Admission and VIP Tickets are on sale now: https://nightout.com/events/sound-check-feat-martin-gore-dj-set-depeche-mode/tickets
It will be interesting to see what songs from ' MG' Martin will play, if any. Santa Barbara better get ready for a double Black Swarm invasion!
Edit: Upon closer inspection, it appears that the Soundcheck event is actually going to held in Los Angeles this year.